I've been having a great weekend, I went to go see Long Beach Gay Pride yesterday, and I've never been, so it was crazy cool to watch, religious protesters aside. Today, I had a day off, and I managed to get some great relaxation time in, I made my own textures from scratch, and I had plenty of time to get the hair you see below done.
The title and name of the hair is inspired by
LMFAO
's song
La La La
, because honestly, the only thing missing in my life lately is a good party.
Adjust-Shine is on top of the world on the left, and EA Control is Party Rockin' on the right:
Black:
Brown:
Red:
Blonde:
Control: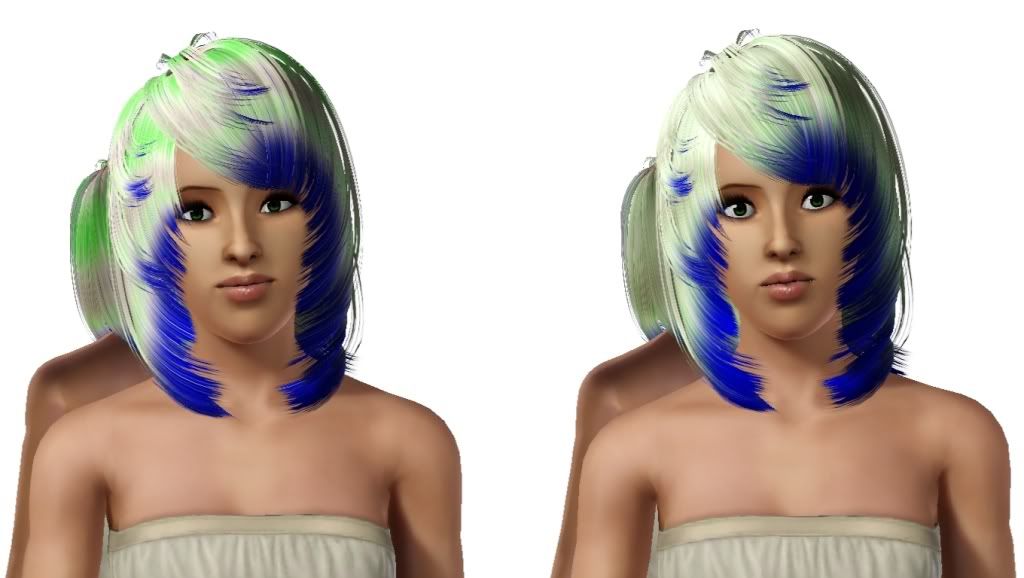 I really like the shape of this hair, its really unique. Also, the roots are in the upper left of the hair, but they're towards the back, which is why you can't see them. I think they look great, but you're just going to have to see for yourself?
Please use
only one version, putting both into your game will make it very likely that neither one shows up.
The hair SHOULD unzip to a maximum of 4 megabytes, and you'll only be putting that much in your game. (Yay for file compression!)
(La La La La (Peggy 735 - Adjust-Shine -F) Moose Retex.package)
(La La La La (Peggy 735 - EA Control -F) Moose Retex.package)
Thank you for stopping by! If you want to know when I make new stuff, then use that handy follow tool, I think its somewhere at the bottom of the blog. If you like my work, please click one of the thingies below the top post, if I get enough clicks, I can possibly get a T$R sub, or a copy of Generations, or maybe even unleashed when they come out.
you my new obsession,
'moose (or moosie, if you so desire)
P.S.- Please use my work for good (making sims over at GoS or modthesims) but I'd prefer you avoid evil. (Paysites, you know who they are). Also, give me and Peggy credit if you do use our work, a simple link back here will suffice. Be smart, eat fruit, and happy simming!